Media
Press
Nov 01 2019
UK-Debut with City of Birmingham Symphony Orchestra and Renaud Capuçon

Sep 19 2019
Lahti Symphony Orchestra
Anja Bihlmaier to become Principal Guest Conductor of Lahti Symphony Orchestra
The Lahti Symphony Orchestra and its principal conductor Dima Slobodeniouk will gain a new artistic partner when the conductor Anja Bihlmaier takes up the position of the orchestra's principal guest conductor in the autumn of 2020. The contract, which runs until the end of the spring 2023 season, includes three to four concerts each year and an option for a two-year extension.
Sep 07 2019
Mahler 4 / Norrköpings Symfonieorkester / Camilla Tilling
Strålande säsongsstart av symfonikerna
Jun 03 2019
Tschaikowsky at Teatro Massimo Bellini Catania
Da un Čaj­ko­v­skij al­l'al­tro: due sin­fo­nie ma­gi­stra­li in­can­ta­no
al Bel­li­ni di Ca­ta­nia
May 13 2019
NRC
Residentie Orkest kiest voor dirigent Anja Bihlmaier
May 10 2019
Västerbottens-Kuriren
World Premiere of B Tommy Andersson Tripelconcerto
Imponerande samspel i urpremiär
May 10 2019
En klangfull kväll
Mar 23 2019
Deilig glitrende Goehte
Kor og orkester klinger sterkt og mektig i Anja Bihlmaiers og Aiks Karapetjans fenomenale oppsetning av en ganske så feminin Faust. Fra første tone er TSO, TSO-koret og Trondheim vokalensemble en samstemt flokk som fremkaller frysninger helt ned i knærne!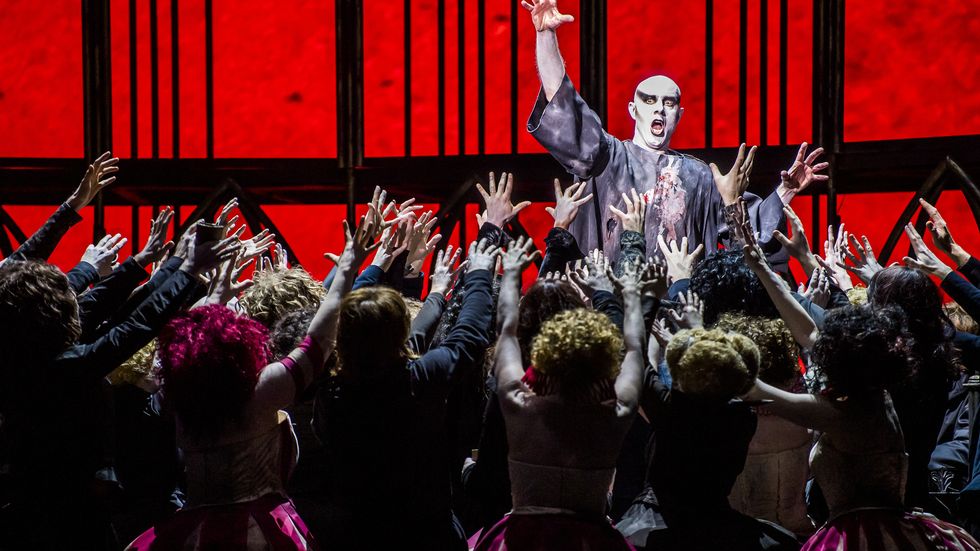 Nov 30 2018
NT / Michael Bruze
Norrköpingssymfoniker / Britta Byström / Malin Byström
"en orkester i högform som i finalen lösgjorde en intensiv energi"
För en vecka sedan uruppfördes komponisten Britta Byströms "Notes from the City of the Sun" av Malmö Symfoniorkester, nu var det Norrköpingssymfonikernas tur att ta sig an detta gemensamma beställningsverk för sopran och orkester.
Stilen finner vi i gränslandet mellan neoromantik och impressionism. Med utgångspunkt från den kinesiske poeten Bei Daos diktsvit har Byström skapat en klangvärld med en tät textur. Tonläget är rejält uppskruvat och de olika korta delarna söker återge olika emotioner och positioner.
Speciellt tilltalades jag av de olika klangregn som fanns i vissa av delarna, men även hur olika instrumentgrupper sattes med och mot varandra i uttrycket; kanske en önskan att släppa lös inre naturkrafter eller att bemästra orosstämningar. Satt och längtade en smula efter mera av dynamiska kontraster.
Ovanpå den komplexa orkesterklangen surfade så solisten Malin Byströms sopran, vokalt briljant, imponerande säker och nästan oavbrutet med fullt spett.
Den tyska dirigenten Anja Bihlmaier fick inledningsvis den bantade Haydnorkestern, "Symfoni nr.60", att göra gemensam entré, stå och spela och gemensamt bocka så fint på slutet. Viktigare var flirten med en barock läsart av musiken, framhållandet av de dynamiska värdena och det utmärkta gestaltandet, speciellt av den inledande satsen.
Framförandet av Robert Schumanns "Symfoni nr.4" kännetecknades av en frustande vitalitet och massor av attityd. Hårda attacker kontrades mot sirlig elegans och musicerandet strålade av liv och framåtrörelse. Jag upplevde en orkester i högform som i finalen lösgjorde en intensiv energi.
May 18 2018
World Premiere of Mikko Heiniö Symphony No. 3 in Turku
Mikko Heiniö's 70th-birthday concert showcases his diversity as a composer. His third Symphony features a percussion group, piano, celesta and harp in soloist roles.
Apr 17 2018
Hildesheimer Daily Newspaper / Eckhard Albrecht / Trans. P. Geßner
A Woman's Tribute to Musical Heroism
Enthusiastic rage over the fourth symphony concert in the city's Theater under the conduct of the sublime guest director Anja Bihlmaier
Jan 21 2018
Helsingin Sanomat Hannu-Ilari Lampila
"Anja Bihlmaier, one of the best German conductors of her generation, impressed Espoo"
"Sukupolvensa parhaimpiin saksalaiskapellimestareihin kuuluva Anja Bihlmaier teki vaikutuksen Espoossa"
Mar 22 2017
HNA / Werner Fritsch / transl. Maren Kallenberg
"Enthusiasm at the Kassel symphony orchestra with Anja Bihlmaier and the double bass player Ödön Rácz"
Mar 01 2017
HNA / Johannes Mundry / transl. Maren Kallenberg
"Cheering for Kassel state theater in the city hall"
Goethe's Faust says "Emotion is everything". And this could have been the motto of the symphonic concert of the state theater in Kassel in the city hall on Monday evening since any of the four oeuvres lured the audience with emotions, sometimes with overpowering, sometimes with feel-good sound. Kassel's First Kapellmeister Anja Bihlmaier could draw on unlimited resources regarding the program which was titled "Viva Italia".